The Interdisciplinary Forum invites faculty to discuss their works in progress in a friendly, academic environment, perhaps with a refreshing beverage on Friday afternoons at Moe's Barbeque.  At the beginning of each semester, the Institute sends out a call for papers on a broad theme and invites faculty from all disciplines in all parts of the college to apply.  The authors of the accepted papers then present their work briefly to faculty from around the University, leaving plenty of time for questions and discussion.  Past topics and themes include hording in rural areas (sociology), racist distortion in space (philosophy), and nature reclaiming man-made objects (studio art).
Call for Papers for Fall 2020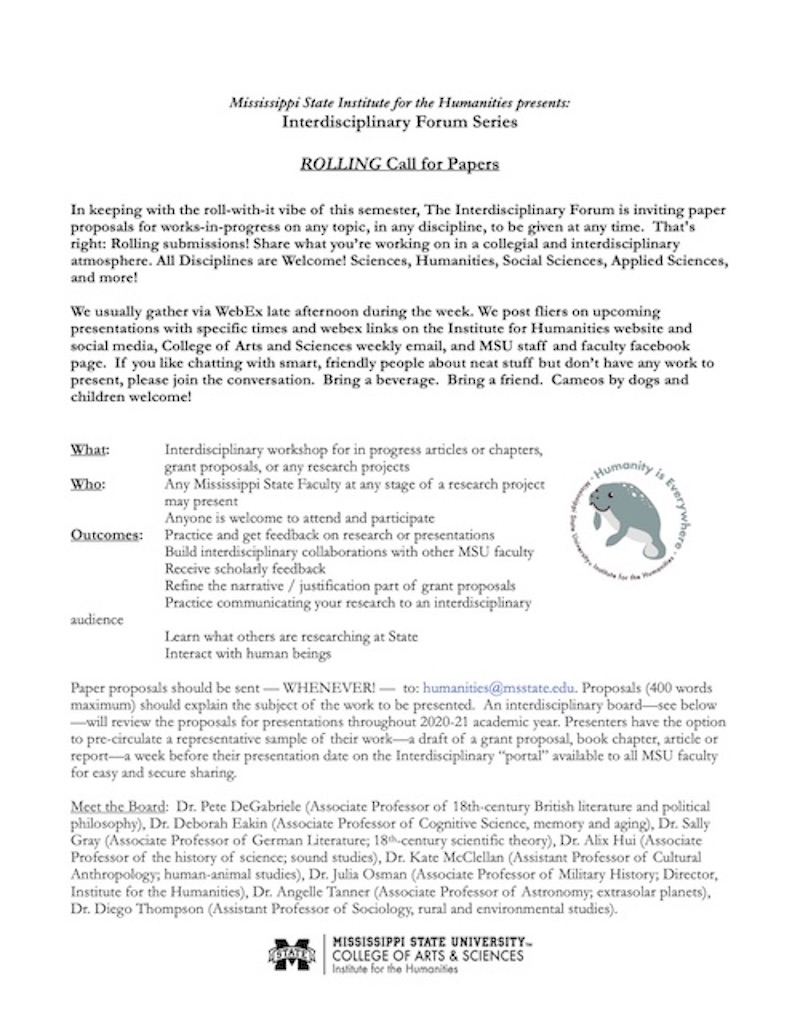 ---
Interdisciplinary Forum Paper Portal
This portal links you to papers that Forum participants have decided to pre-circulate before their presentations.  These papers are DRAFTS, please do not share the papers beyond the Forum.
---
Past Forums
2018
February, 08, 2018, "After Nature" [link to: Mark Clark (CMLL) - "Gaia Theory in the
Homeric Hymn to Earth"
Sally Hatch Gray (CMLL) - "On the Organism and Freedom: Revisiting Goethe's Problem with Objectification in Natural Science"]
February 22, 2018  "The Anthropocene: The Beginning of the End?"
Peter Corrigan (CMLL) - "Fourth Century BCE Greece and the Beginning of the Anthropocene Epoch"
Keith Moser (CMLL) - "Mastering the Human Predator-Parasite Within at the Advent of the Anthropocene Epoch: Michel Serres's Ecocidal Vision of the World of Tomorrow"
March 29, 2018 "Excess/Access and Inequality"
Gregory Martin (Art) - "Dissonance: Art and Inequality through Visual Language"
Christopher Fuhrnmann and Vasileios Sassanis (Geosciences and Engineering) - "Are We in a State of Climate Confusion? Moving Beyond Uncertainties in Climate Science to Ensure Accessible and Sustainable Sources of Energy"
October 19, 2018
Dr. Robert Harland (CMLL), "Catalonia: Nationalism as a Performance"
Dr. Karen Williams (Anthropology and Middle Eastern Cultures), "The 'Everydayness' in the Reentry Classroom: Making Ethically Sensitive Citizens."
November 30, 2018
Dr. John Woody, "Supplemental Nutritional Assistance Program Recipient Data Integrity"
Dr. Scott Rush, "Change in governance of ecological systems through climate change and human modification"
2019
February 22, 2019 [link to flier]
March 1, 2019 [link to flier]
October 4, 2019 [link to flier]
October 25, 2019 [link to flier]
November 8, 2019 [link to flier]
 
---
Members of the Board of the Interdisciplinary Forum